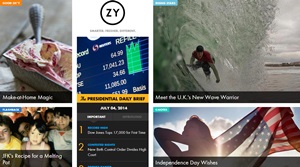 OZY Home Page
And none come much hotter than Ozy – a site that's already made headlines across the globe and has been guest edited by presidents and prime ministers.
And while Abacus' Webvision CMS has long been operating across the world with companies such as Thomson Reuters and UBM using it to support their international businesses, its adoption by Ozy represents an exciting new chapter for the product.
The US-based media site launched in September 2013, founded by former MSNBC anchor Carlos Watson and Goldman Sachs colleague Samir Rao. Parent company Ozy Media is backed by Silicon Valley royalty including Laurene Powell-Jobs, Google's David Drummond and Ron Conway (an early investor in Google and Paypal amongst many others). Ozy celebrated its first birthday by featuring in the financial press with the news of a major investment from German media giant Axel Springer.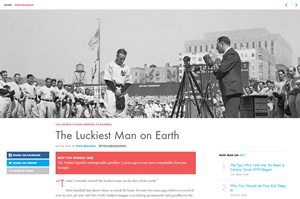 OZY Article Page
The site, which reaches 5.5 million unique users each month, carries a unique blend of content aimed at bringing visitors up to speed with critical world events of the last 24 hours and vaulting them ahead by previewing new people, places, ideas and trends in bite-sized original articles that are intelligent, compelling and stylish.
And the quality of content and power of the brand quickly drew a star-studded line-up of guest editors including Tony Blair, Bill Gates and Bill Clinton, whose comments on healthcare policy became a major international news story that even prompted a response from the White House.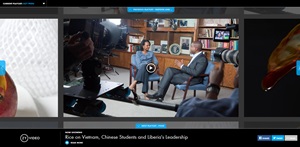 OZY Video Page
Abacus was involved in the Ozy development from the very beginning, working with the Ozy team and their branding consultancy to build the responsive designs and a technology platform that matched the creative vision and demanding standards of the founders. The close working relationship was cemented when a team of four Abacus staff was 'embedded' at Ozy HQ in Mountain View for five months prior to launch.
This close relationship paid off with the launch winning widespread praise for the quality of the content and, according to the New York Times, its 'slick' fully responsive design.
Subsequently, the Abacus team worked on the further development of the site including the launch of an innovative video section before handing on responsibility for all front-end development to the Ozy team in California.
And as Ozy goes from strength-to-strength, continuing to literally make the news and building new content partnerships with the likes of CNN, USA Today and National Geographic, we're proud that Abacus is part of a project at the very cutting edge of digital publishing.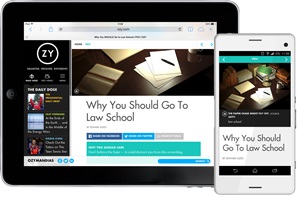 OZY Article Page on iPad and Xperia z3
Ethan Marcotte is widely regarded as the inventor of responsive design – the approach that allows websites automatically adjust and optimise to best suit the device on which they are being viewed.sites automatically adjust and optimise to best suit the device on which they are being viewed.
When Ozy started working with Abacus in 2012 the brief was always that the site – which is powered by the Webvision CMS platform - should be fully responsive and work beautifully wherever and however it was viewed.
Now this strategy has been vindicated by the expert's expert. During Marcotte's weekly podcast he described Ozy as 'a beautiful piece of responsive work' with a design that 'just feels at home on pretty much small or big screen'.